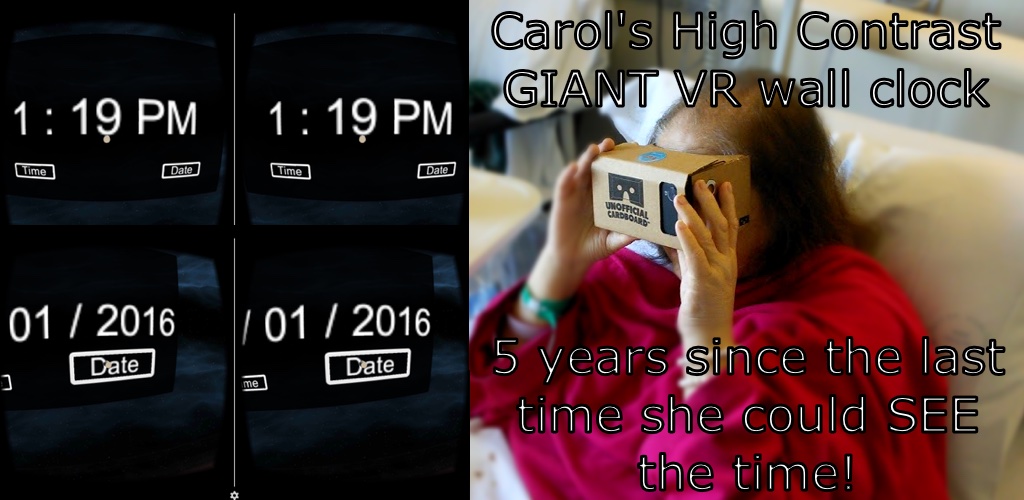 Carols High Contrast Giant VR Wall Clock
A downloadable project for Android
This is an Android project I made for my mum who is visually impaired (legally blind) as a side affect from diabetes. I've decided to make this available for anyone who may want to try it out.
---
While visiting my mum I noticed she could make out the silhouette of large shapes against a very bright window. She could tell if there was a person or something else in front of the window. She could also see if the person had raised their hand, but not how many fingers they were holding.
I thought I would try an experiment and used Unity3D to whack together a quick Google Cardboard VR app that was simply a high contrast giant wall clock. I handed it to her and just asked if she could see anything. Excitedly she asked, "Does that say 2:33pm?!", which was followed by, "I think it just changed to 2:34pm!".
She just kept looking at it and didn't want to take it off - it was the first time she had seen the time for 5 years. There are plenty of talking devices to tell her the time (including Siri on her iPhone), but the novelty for her to see the time again just made her feel good. It made me feel good too!
Download
Click download now to get access to the following files:
FixedRealityCMC.apk
24 MB