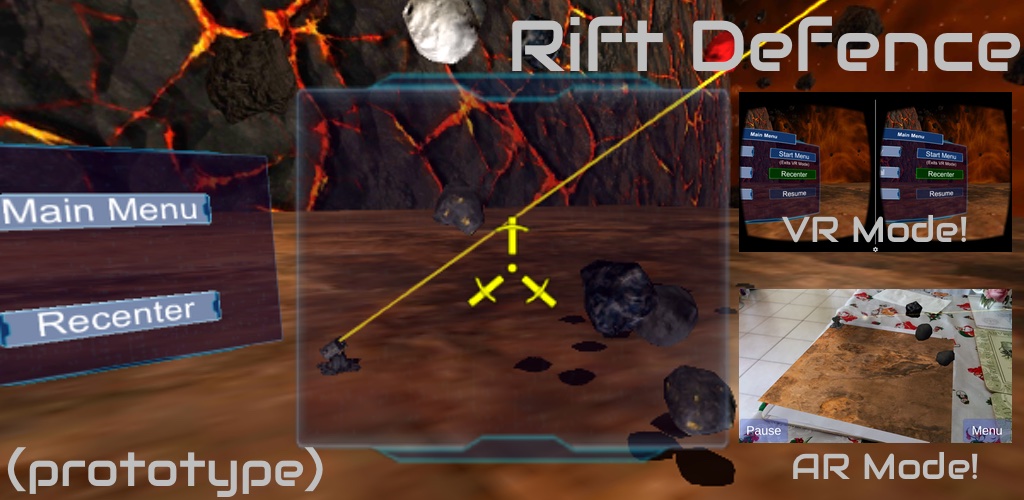 Rift Defence
A downloadable game for Android
It's up to you as a Rift Defender to protect the growing human outposts: entire settlements rely on you to protect them! Can you protect the colonists and discover the secrets of the rift?
---
This game is currently under development in the proof of concept stage. It supports Google Cardboard, standalone 'gyro' mode and an Augmented Reality (AR) mode.
This prototype preview illustrates general game play and does not yet include scoring, win/lose state or the story. Please consider donating to see this game happen faster, thanks!
---
The recent ability to create temporary wormholes and jump large distances in space has allowed humans to start exploring and settling far outside of the local solar system.
Jump technology has a price: repeated jumps in close proximity weakens the fabric of space causing rifts.
Naturally, supply and communications wormholes are near human settlements, and the resulting rifts are dangerous to the outposts. The gravity from human settlements pulls asteroids through the rifts that end up in a collision course with the settlements.
Rift Defence was established to train the best with neural implant technology linked directly to outpost defences.
As a Rift Defender it's up to you to protect humanity. Progress through the ranks protecting humanity and collect data from the rifts. Will you be the one who finds the vital clues to stop the rifts once and for all?
Download
Click download now to get access to the following files:
augmented-reality-marker-a4.zip
580 kB